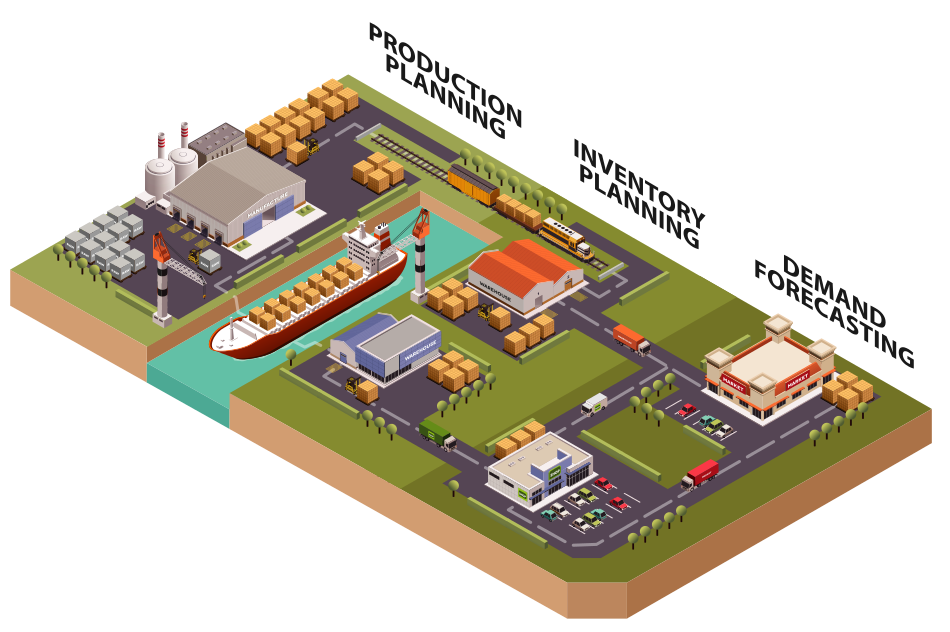 Open source
supply chain planning
software
Outgrowing
your planning spreadsheets?
---
Demand forecasting
Extrapolate demand history into the future
A reliable sales forecast is a cornerstone for all planning processes. Demand forecasting allows your planners and sales team to work together in establishing a sales forecast for the future.
FrePPLe uses advanced time series algorithms to extrapolate the demand history, and gives users across the company the capability to review and adjust the sales forecast.
---
Inventory planning
Correctly dimension your stock levels
Correctly dimensioning the inventory across the network is important in today's complex supply chains. FrePPLe computes safety stocks and reorder quantities for raw materials, intermediate products and end products.
This helps companies to reduce the inventory costs, prevent stockout situations, improve service levels and eliminate manual processes.
---
Production planning
Finite capacity planning and scheduling
Generate finite-capacity production plans and schedules constrained by resource capacities, personnel availability, material availability and lead times.
A constrained production plan that can easily be shared across the company allows:
Reduction of the work in progress and inventory
Improve the resource utilization
Improve on-time delivery of customer orders
Enhanced responsiveness to demand and supply changes
Improve the planner's productivity
---
Enhance planner productivity
Get rid of the copy-pasting between Excel spreadsheets
What-if scenarios
Easily manage multiple plans and compare them.
Easy to integrate
Integrate in your landscape using our APIs, or use the packaged connectors for Odoo or Openbravo.
Localization
FrePPLe is available in English, Dutch, French, Chinese, Spanish, Portuguese, Japanese and Italian.
Customize
Add your own custom fields, reports and planning algorithms.
Open source
The Community Edition is a fully functional APS tool, published under the GNU Affero General Public License (AGPL).
---
Some of our customers
---
News
Community users were already able to change the frePPLe logo with their company logo and, starting from today, cloud users can now do the same to personalize their frePPLe environment.
We are now offering frePPLe cloud edition *free* for models up to 1000 active item x location combinations.
---
Follow us
on LinkedIn
Sign up for the newsletter
Visit and join
the user community – the first place for support and questions.